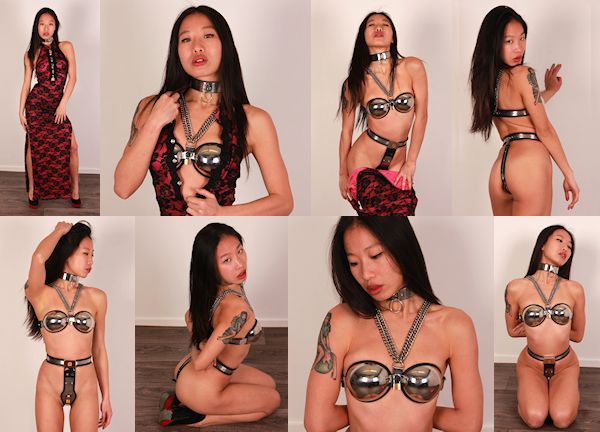 Of all the applications we received (and continue to receive), Yu's email stood out. She is a very classy Taiwanese lady, travelling around Europe, staying wherever she can, and making money in the most interesting ways. Well, this Casting should certainly be one of the most interesting!
The other thing about Yu is that she is a very natural submissive woman. Very elegant, silent, and graceful. She was locked into a tight chastity belt and bra, and a collar, and she immediately went into this mode of servitude. She actually became more submissive (and turned on!) by wearing this gear! Girls like this (for example Jessica) are rare, so we can't all have one, but at least we can enjoy watching someone getting completely into the feeling of wearing tight chastity gear.
Without telling her to, Yu strips off her classy Asian dress to reveal her chastity gear, then proceeds to kneel down, neatly folding her arms behind her back. Now that's a Casting session! With no place to spend the night, and not feeling like hauling her huge suitcase around in search of a cheap hotel, Yu asked if she could spend the night. Sure! No problem!
Two conditions: there will be cameras (of course) AND Yu had to do an extra shoot for MetalBondage.com the next day (still in the chastity gear of course). Yes, I sure like to get my money's worth out of these Castings!