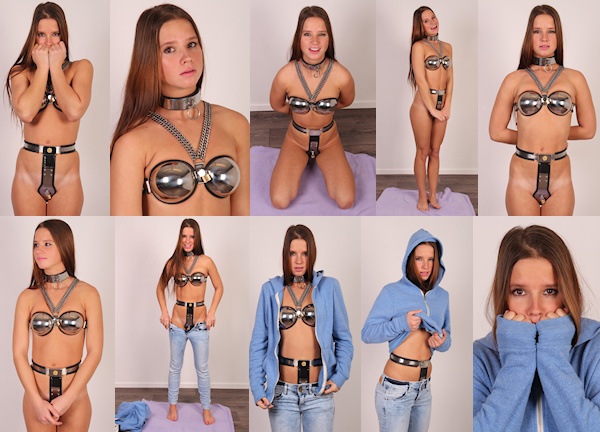 We continue to have our Casting sessions, because it is a great way to get more girls belted, and the emails just keep coming in! Jessica is a terribly cute girl who thought it would be really 'funny' to try a shoot in chastity. Well, we are always happy to make wishes comes true, especially in this case! This girl could be the submissive discovery of the year! Jessica actually folds her arms behind her back all by herself, as if she instinctively knows this pose belongs to a Casting like this, even though she might be a little too young to know such things.
18 years old, this girl rivals even Little Caprice for cuteness! Jessica seems shy, but she actually was having lots of fun! We locked her in a tight chastity belt, a chastity bra, and even a collar. There was no way this gear was coming off soon, we just had to admire so much submissive cuteness for the rest of the day. In fact, it was already getting late, so we told her she could sleep over in our studio bed, but Jessica seemed a little reluctant to do so. She quickly put on her clothes, and looked at the camera, waiting…
Her pleading eyes were asking us to let her out, but (barely resisting) we gave her a choice: stay for the night, or leave wearing all the chastity gear. Tune in next week to see what happened!!