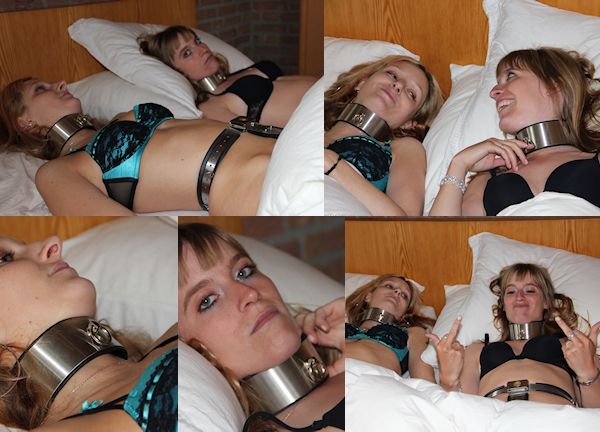 THIS UPDATE WAS SHOT ON DAY 4 OF THIS DEAL
The fourth night of Silvie and Deborah's chastity deal was going to be an interesting one. They had locked themselves in (quite tall) collars during the afternoon, and the keys were not available until the next day. This meant of course that they had to spend a night in collars!
When I thought of these challenges (going through your suggestions), many months ago, it seemed like a fun idea to have the girls locked in collars for 24 hours as an additional challenge. In reality, the girls were already having a very hard time in their belts (especially Deborah), and they did not get much sleep during the first 3 nights.
There was no way they would go out in their collars, so Deborah decided to once again spend the night at Silvie's place. This update shows footage of that 'collar night', and you will see it was incredibly hard for these girls. Remember they are not into chastity or bondage, and everything they do is new to them.
The collars are posture collars, which means they have to sleep with their chin up. They have to lie on their backs because of the chastity belts. After much discussion and adjusting, Silvie is able to get some sleep, but the reality of the situation gets to Deborah who actually suddenly loses her temper in the middle of the night, scaring the hell out of Silvie.
Good thing the collar challenge was only 24 hours, they would not have survived any more. The problem is… there are more challenges coming their way…
Static infrared camera footage. Morning 'selfie' video included!