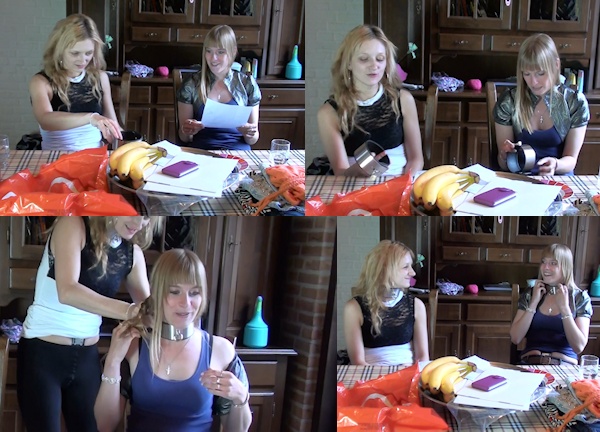 THIS UPDATE WAS SHOT ON DAY 4 OF THIS DEAL
On day 4, Silvie called Deborah over to her house to tell her a mysterious plastic bag had arrived. It contained their first challenge! But Deborah didn't know anything about Challenges, she was still trying to cope with ther chastity belt and was having a very hard time compared to Silvie.
Silvie, on the other hand, was really motivated and curious to see what what was in the bag. Silvie did not have any of the belt problems that Deborah had, which almost made this Chastity Deal a little unfair. Silvie's difficulty wasn't dealing with the chastity belt, it was convincing Deborah to continue. If either of them would quit, they wouldn't receive any money at all!
It was interesting to see how Deborah would deal with the news about this first Challenge. The bag contained two broad metal collars and padlocks without keys. It also had a note, saying they would have to wear these collars for 24 hours, starting now. After 24 hours, I would show up with the collar keys. This also meant a night in collars, a very hard Challenge for these girls! Deborah was very reluctant, saying Challenges were not in the contract (but they were, she just didn't read it). There was no way she would go outside wearing that big collar, so she decided to spend the nigh at Silvie's (again).
Would they be able to get any sleep, with their necks locked in metal? Probably not. Don't worry, it was only for 1 day…
Dutch dialogue. English subtitles are included in the member download!