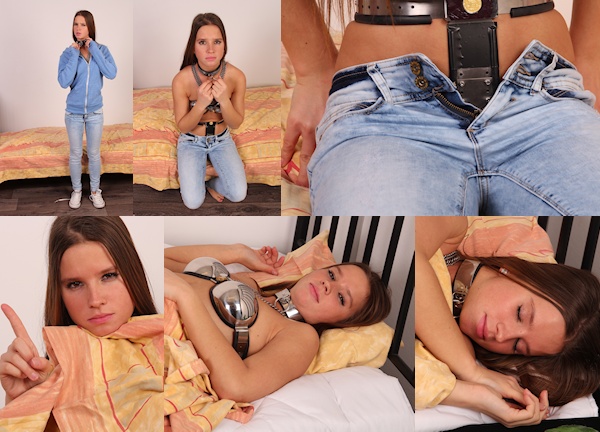 Jessica was a little overwhelmed on her Casting session… such a young girl, locked in full chastity and collar on her first visit. Why not just start with a belt, and then ask her to come back for more? Well, did you take a good look at Jessica? I just couldn't resist locking her into full chastity. She is a natural submissive and so cute it will make you melt. I bet she could plead her way out of the belt with most keyholders. Could you resist?
After her Casting, I told her I had one little Challenge for her. She wouldn't get out of the gear for another 3 or 4 hours, so she might as well try to get some rest in our studio bed. I wondered if a girl could sleep in this outfit on her first belted session. Jessica was very tired from her flight, so she was really looking forward to lie down, although this wasn't exactly what she expected.
She took off her clothes again, and got ready for bed. She clearly didn't expect me to photograph and film this too. Trying to cover herself up with the blanket and wagging her finger at me, Jessica tried to make clear that she was done shooting now. She wanted to be alone, and ponder about her fate with her little body locked in tight metal chastity gear.
Please be gentle with your comments, Jessica will read this, and I definitely want her to come back for more!