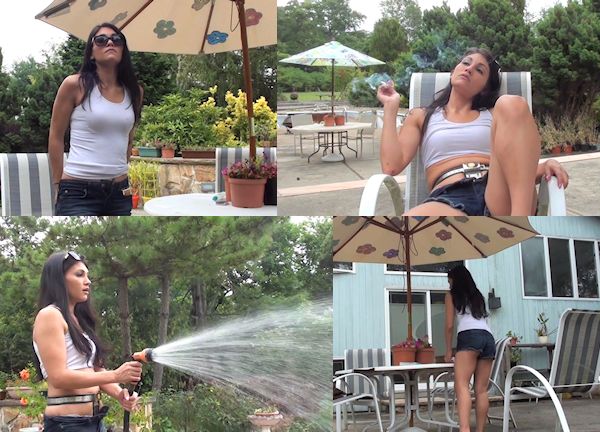 Still in her white top and jeans shorts, Jade goes into her garden to smoke. She sits on the stairs to put on her slippers, but that's hard when you are new to wearing a chastity belt. 'I am going to laugh about this when this is over!', she tells herself, fantasizing how she will be dancing, going out, and shopping. Well, she isn't there yet. In fact, this is only the second day of her Chastity Deal, and the first day wasn't even a full day.
Afraid the neighbors will see her, Jade pull down her white top and sits down in her chair to smoke a cigaret. Again, she sits down too fast and the belt pinches her butt. Hopefully she will learn to move with more care.
Jade really wants to tan her skin a little, but she really does not want anyone to see she is wearing a chastity belt. The neighbors can see right into her garden. She pulls her top up and her shorts down to get a little bit of sun on her skin. Then, she just forgets about her belt for a while when she starts wondering if she should wash her car, or spray the garden with the hose.
As she moves up and down the garden spraying her plants, you can see her forgetting about the belt for the first time. She only realises she is wearing it when she has to bend over again to turn off the water. Jade is still complaining, but we think she is making a little progress now!