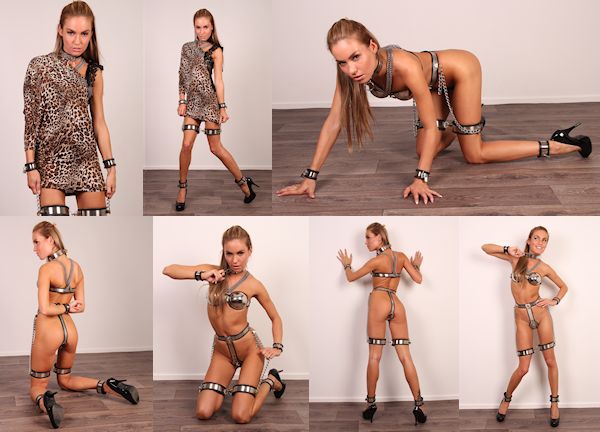 Some time ago, we showed you our new thigh bands that we had custom made. To show you their adjustability, we put them on Birdy Dee as high as possible. This was done on purpose, they need to go lower, of course, but not too low!
The problem we are trying to solve is this: when the thigh bands are too high (like on Birdy Dee), they don't do much at all. They don't limit the size of the girl's stride, nor do they prevent her from opening her legs. When thigh bands are too low (like the ones we used until now), they can be escapable!
To demonstrate this problem, we needed a model with very slim legs. So we invited high fashion model Sylvie over for a 'metal underwear' shoot, that would be her Casting at the same time. By the way, we have to tell you: this girl is a keeper, even though she has a background in fashion, she is a natural submissive and bondage lover!! But don't tell anyone that if you manage to find out her real name ;)
The old thigh bands look like they are in the right position, not immediately above Sylvie's knees, but quite a bit higher up with all the slack taken out of the chains that connect them to her belt. The problem is, when she bends over, the chains have enough slack to move the thigh bands down and over her knees. There's probably a formula to work out that triangle and the lengths, but we don't like math, we like girls in chastity belts!
The new thigh bands will allow placement that will be inescapable (about halfway up the upper leg, or even slightly above that), but in today's video, Sylvie demonstrates the flawed old style bands with a naughty smile on her face. She felt so proud she had escaped something! Unfortunately for her, she is locked into our custom hardened steel ergonomic belt and a tight chastity bra, so her chastity wasn't in danger. Check out this gorgeous submissive girl testing our gear while doing pro fashion poses, only to find a partial escape can be even more frustrating than no escape at all!