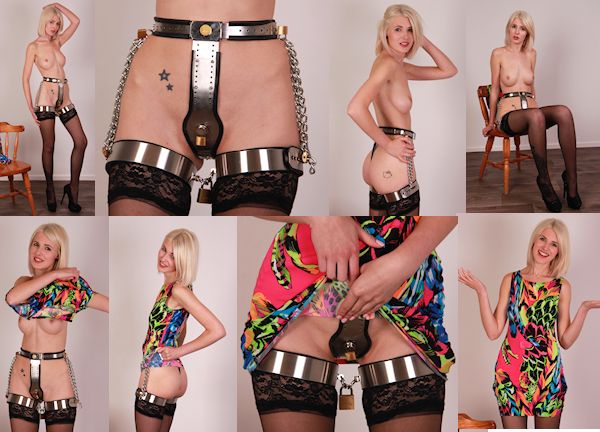 A lot of girls are emailing us now to get accepted for a Chastity Deal! Most of them are looking for cash, but some are different… Meet the lovely tall blonde Birdy Dee from Scotland, she is really interested in chastity, and not just for the money!
There is something about her, we think she has a lot of kink in her! We invited her over to our studio for a casting, and we could tell right away that she was really really hoping to get accepted for a long term deal. So here's what we did: we locked her into a chastity belt and our new (custom made) thigh bands. We told her to put on a dress and get ready to go outside! Watch Birdy Dee cope with her first time in chastity, and don't forget to check back on her next week, when she will go out in public and you will hear her plea to you (the members) to accept her as a Chastity Babe, as she is really hoping for a nice Chastity Deal contract with us! You decide!
Now, about the thigh bands that we locked onto this pretty girl: we have been searching everywhere to get adjustable thigh bands that can sit either high or low on the upper legs, but we couldn't find any good ones. So we commissioned a metal worker to make a pair of adjustable ones for us. In this casting, we put them very high on Birdy's towering legs, and attached them to the sides of her belt by a double chain. A big padlock holds her legs together, making the belt more effective! These new thigh bands look great with stockings! And, being up higher on the leg, they can be concealed by even a short dress! Oh, and as an added bonus: they lift the butt for a very sexy look ;-)
We are planning to sell these custom adjustable thigh bands in the future, if you are interested in getting a pair, just email us! For now, just enjoy this awesome picture set and video clip of Birdy Dee's first time in chastity, her first steps in thigh bands, and her enthusiasm for more chastity! And remember to check out her outdoors adventure next week!