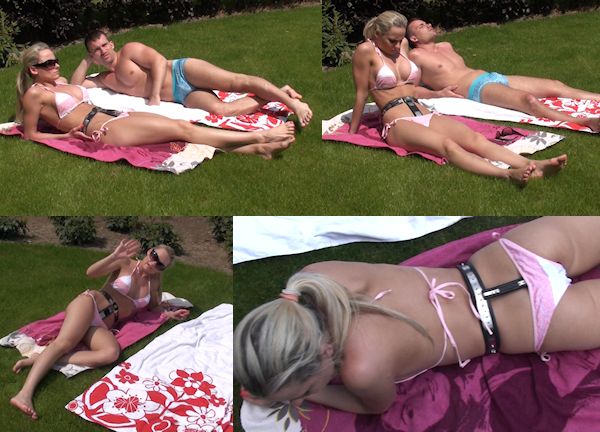 After her horrible day at the office, Misha did not go to work again in her 10 day Deal. We don't know how she managed that, but we suspect she called in sick. We think she overreacted a little there, but she really had problems driving her car, so she decided to stay at home to serve out the rest of her Deal.
It wasn't any easier (not going to work), but it was certainly more fun. Spending the whole afternoon in their garden, out in the sun, for example, was one of the couple's favorite pastimes. Like many of you have commented before: that is going to give her some interesting tan lines! But we always say: tan lines are only visible when you actually take the belt off, and chastity belts are not meant to be taken off.
We were not there during this day of the Chastity Deal, but they obediently pointed a tripod camera towards the garden where they were sun bathing, and Paul even grabbed the camera himself, to make some (shaky) closeups of his girlfriend's body locked tightly in the rigid style chastity belt. We don't know how Paul coped with this torment, such a beautiful girl under lock and key, but we guess there are other ways to find some pleasure if your girl is locked into a chastity belt!
This is a real Chastity Deal, with consenting participants, there is no acting. Never belt a girl against her will! Remember these updates are not shot in a studio so picture quality may vary.
English subtitles are included in the member download!