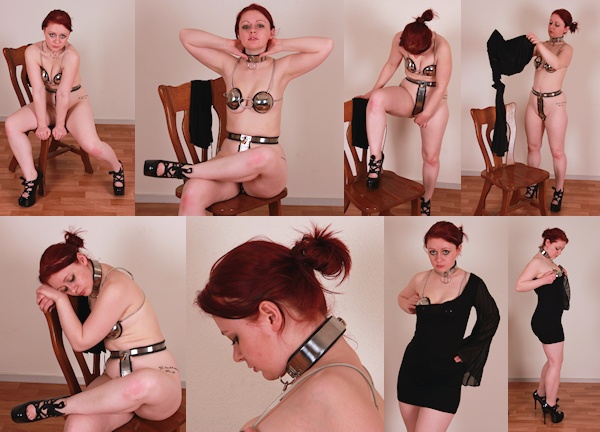 Young redhead bondage babe Alexia Valentine is talking to you, dear keyholder. Huge eyes, cute baby face, pale skin, towering high heels, collared, big boobs squashed into the small chastity bra, and securely belted, Alexia wants to get out of her gear and the building. Will you let her go?
Speaking softly in her Scottish accent, Alexia does her very best to convince you to let her out of the gear. She can not possibly go out like this! The dress she brought is a strange assymetric piece of cloth that does not even cover her right bra cup. And the slave collar, tightly locked on, is impossible to hide. It would be horrible for her to go out like this!
You will probably give in, after hearing her plea, but try it for yourself: watch the video clip and decide if you would have let her out. If not, please comment on how long Alexia Valentine should be belted. Remember, she is a pure submissive girl, and very much into power play, so don't go too easy on her… if you can survive her cute begging!