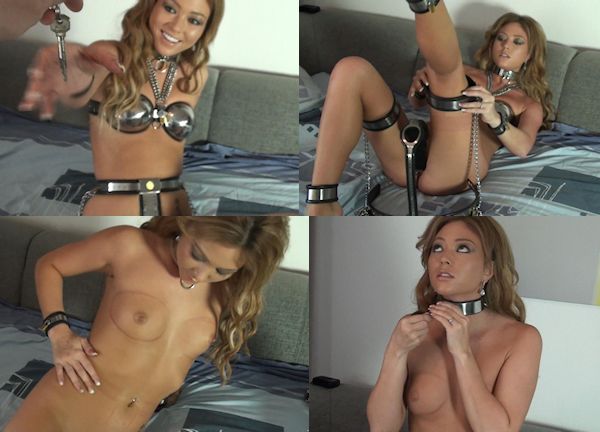 THIS UPDATE WAS SHOT ON DAY 5 OF NATALIA'S FULL CHASTITY CHALLENGE
We have so much more footage of Natalia's Chastity Deal, but as some members have been pointing out: it is really very similar stuff. It is nice to have a 5-day Chastity Deal, but just like in those 24/7 reality tv programs, not a lot is actually happening. Some of you want to see a girl struggling and fighting all the time. It turns out that just does not happen in real life. There was quite a bit of whining, frustration and even fighting, but our poor Natalia was just sulking, reading, playing games on her phone, doing her make-up and hair for most of her stay. And rightly so. We just want to document whatever happens, there's no script for a Chastity Deal!
So we are jumping right to the end here: on the fifth day, Natalia woke up very happy, looking forward to getting out of the Chastity Gear and the cuffs and collar that had been locked back on for the last night. She was jumping around, asking us for the keys all the time. By the time we were ready to give them to her, she was almost bursting out of her chastity gear for anticipation.
When she took off all the gear, we were all surprised by the marks it had left on her body. The bra, waist belt, and thigh bands had left some pretty deep impressions on her skin. It was also very dry, like we had seen before with the thigh belts. Natalia wasn't happy about this at all, but she reported back that the red marks were almost gone the next day. Yes, chastity gear has to be tight, that is the whole point, but skin needs care and air. We think 5 days (or maybe 7) might be a limit in 24/7 belting without cleaning breaks.
Well, that's it. Natalia happily tossed the gear aside, took her money and left. She made it, and she will probably NEVER do this again (aside from a little shoot for MetalBondage.com maybe). We wonder if there are any other girls who will take up our challenge. We have received some emails, but no one is committed yet. Fortunately, we have an amazing fantasy story that will start next week (every Wednesday), it will definitely blow your mind! Stay tuned!
Remember the Chastity Deal updates are not shot in a studio so picture quality may vary. Member pictures and videos are not censored in any way. Also, we would like to point out that this deal was done under supervision and contract. Please do not lock someone in chastity unless you can watch them and care for them 24/7. Natalia made it and is doing fine now. Thank you for your concerns.