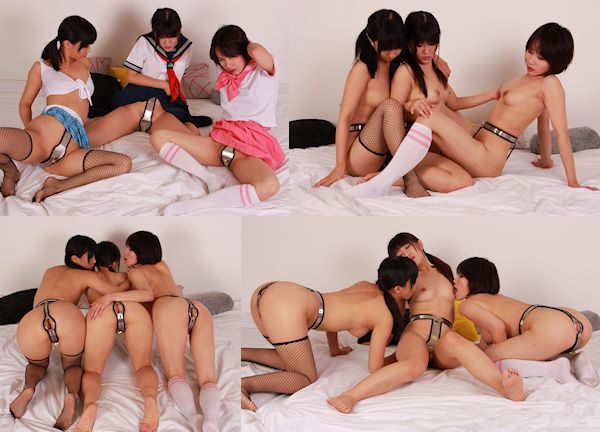 What if three cute Asian cosplay girls would wake up in chastity belts? Okay, it's a fantasy, but when we saw Ting, Maya, and Nancy on MetalBondage.com, locked in their tight belts, we just had to shoot them in the cute uniforms they brought!
We have pink sailor girl Ting, school girl Nancy, and their young friend: blue sailor girl Maya. Waking up together in their fantasy outfits, they discover they have been belted overnight. The girls immediately start looking for a key, but when they don't find one, they just focus on the chastity belt padlocks. There does not seem to be a way out of these belts! That's a real problem for these three girls, because they just LOVE playing with each other.
They quickly undress to see if they can still have some naughty fun, but the unforgiving belts are in their way. They try rubbing and riding, but there's no way of getting any satisfaction. They can touch each others boobs, but that only makes them more horny, so that is actually more frustrating. Ting, Maya, and Nancy make all kinds of cute sounds and they seem to be aroused and excited by the belts. We think it would be a good thing to invite them back and belt them for real (not just for a fantasy update), to see how long they will last. They are probably far too playful and sexual to last very long, but that will make it more fun!