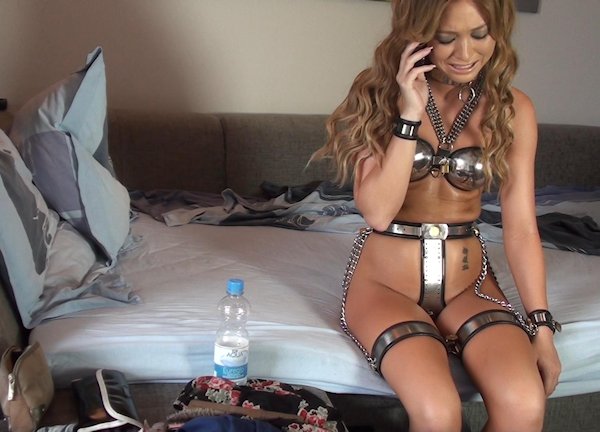 THIS UPDATE WAS SHOT ON DAY 3 OF NATALIA'S FULL CHASTITY CHALLENGE
Although it was technically not in the contract, we were quite eager to lock the remaining gear onto Natalia. There were still wrist cuffs, ankle cuffs, and a collar lying around, waiting since day 1 to be put to use. But because of Natalia's high stress levels, we were a little afraid it might send her over the edge.
On day 3 we finally told her that we were going to lock on the padded 5 point restraints. Natalia did not take it very well, as expected. She called her best friend immediately after we left, although you will see that she did not receive much support from the UK.
Natalia started panicking (and crying of course). She wanted to quit, because of the extra restraints. It was just too much for her. Waiting for us to return, she prepared to to tell us she was going to break the contract and leave (without the money). She even started packing. Fortunately we were able to calm her down and remind her of the money, the fact that she was over half her time in chastity, and her big holiday she was planning to take. We are not sure her UK friend was still invited though…
Remember the Chastity Deal updates are not shot in a studio so picture quality may vary. Member pictures and videos are not censored in any way. Also, we would like to point out that this deal was done under supervision and contract. Please do not lock someone in chastity unless you can watch them and care for them 24/7. Natalia made it and is doing fine now. Thank you for your concerns.