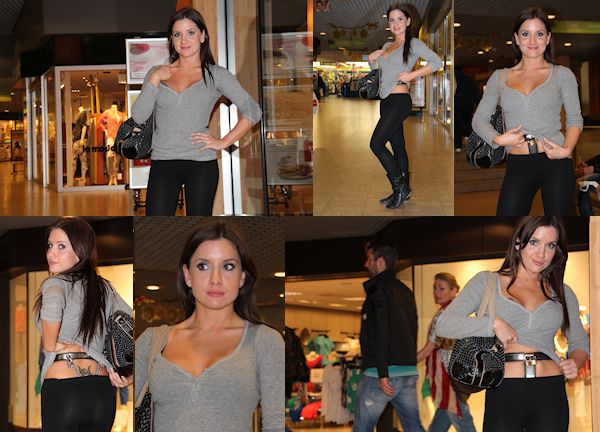 More free shopping!! As you may or may not know, we made a Chastity Deal with new girl Bella. Just flash the belt in a public shopping mall, so we can take some pictures and video. And get a few hundred euro worth of free shopping in return. But the first mall turned out to be very crowded, and Bella was very nervous!
After a short drive and a quick change in the car, Bella was ready for the second shopping location. She actually did not buy anything at the first mall, it seemed she completely forgot about shopping for a moment! At this new location, things were looking a little better for Bella. Still crowded, but not as bad as the first one. And Bella seemed more confident, a hint of a smile returning to her face.
You can still see she is aware of her tight belt at every step. She is not used to it at all, of course, it was only locked onto her in the morning during her casting. People were still looking at her, like they guessed there was something different about her. She gave us some brave flashes, it was a very exciting afternoon, shopping with a girl locked in a tight belt!! One more location to go for Bella!