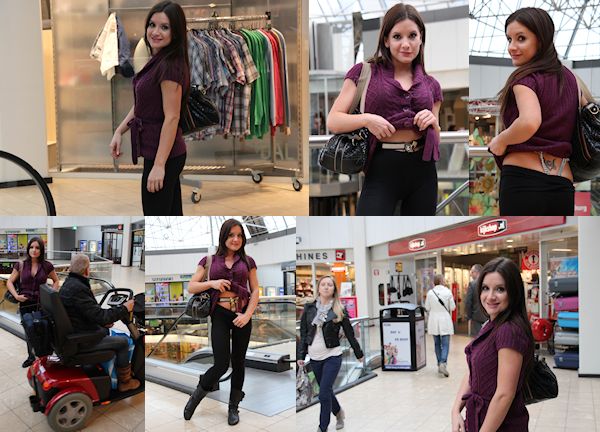 Free shopping!! Most girls would love that, so it was not very difficult to make a Chastity Deal with new girl Bella. Just flash the belt in a public shopping mall, so we can take some pictures and video. And get a few hundred euro worth of free shopping in return. Easy!
But once we arrived at the mall, Bella suddenly wasn't so sure she wanted anyone to see her predicament. She was browsing the shops very nervously, looking for the right moments to show us her belt. There are just ALWAYS people coming when you are trying to do something like this. Of course, we picked a busy mall, and there just wasn't a quiet moment or spot to be found. Bella could not even pause for a second without getting some glances.
It made her very shy and nervous, but also very very excited! Something mischievous took hold of the tiny beautiful girl, and she was afraid and daring at the same time! Perhaps the feeling of her hidden secret, surrounded by hundreds of people, triggered some sort of fantasy! We could see Bella was having fun, although she was scared to death someone might spot her chastity belt.
After this mall trip, Bella was exhausted from all the tension. But we still had two more busy locations in mind for the rest of her shopping day!!