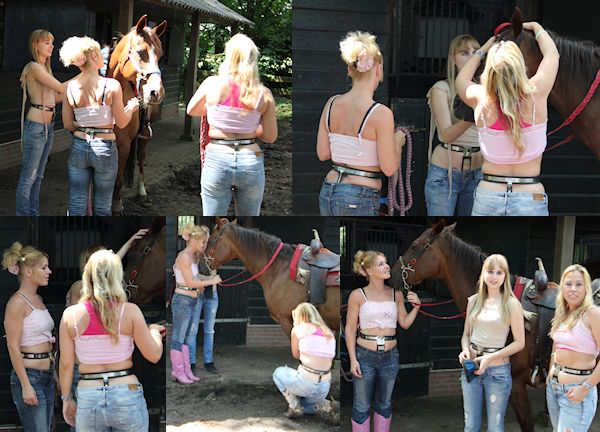 THIS UPDATE IS PART OF THE BELTED FOR CHARITY EVENT
Rested from their break, Wendy tells the girls they are going to saddle up one of their horses for Laura and Natasja to ride. Wendy is on our side now, she wants the others to experience that it is perfectly possible to ride in a chastity belt, even when you are not an experienced rider like she is!
Laura and Natasja help Wendy to saddle up the horse, but they don't seem very happy to go riding in the afternoon. The ranch is busy, there are mothers and boyfriends all around them, but the 3 belted girls don't seem to worry about anyone seeing them locked in metal.
Next week we will see how the girls did, riding in a chastity belt for the first (and probably last) time in their lives!
As you can see on the right hand side, Wendy has asked us to implement the donation widget for her cause (saving street dogs), you can also reach her on wendy@mail2turkey.com if you have any questions about her charity! Please be respectful when emailing her!