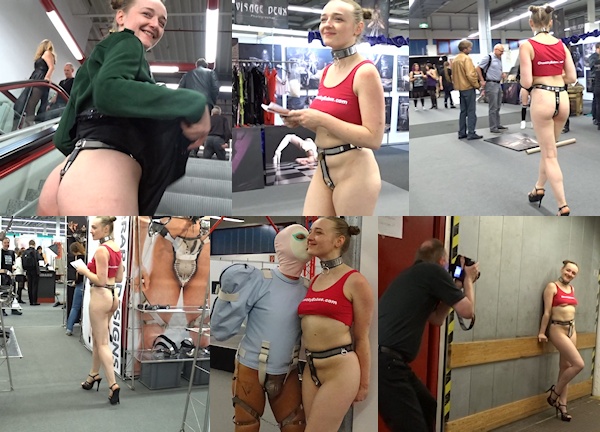 Recently, I went to a fetish fair in Germany and I found a few of my UK friends over there! One of them was my trusty Chastity Babe Kerry from Scotland, who loves to come over to Holland to do very naughty Chastity Deals! Well, of course I knew she was going to be there, so I brought her belt, a collar, and a promo shirt for her to walk around in!
It's always exciting to be belted in public, even though it is a fetish fair. Kerry was in her heels, a ChastityBabes top that was too short and a belt and collar. So not wearing much really! She was so happy to go around the convention and get her picture taken by visitors and professional photographers! Of course, she handed out a few ChastityBabes.com flyers, so if you found this website through one of Kerry's flyers: welcome!!
We had a lot of fun looking at all of the people dressed in their favorite fetish outfits, we went to a few booths to look at toys and chastity devices (Kerry said I should wear one too!), and we paid a visit to the Carrara chastity booth! Kerry even went on stage for a moment, to have her picture taken. More and more photographers asked her if they could take a picture and she ended up in an industrial looking elevator to get photographed in her belt and collar by several enthusiastic camera-wielding fetish fans.
It was a great day, and I had a lot of fun with Kerry. Usually I have a 4 or 5 girl promo team, so it was a bit lonely for Kerry without her fellow Chastity Babes, but at the next convention I will be doing a larger promo team again! Just because it's so much fun to see everyone's response to hot girls in chastity belts!