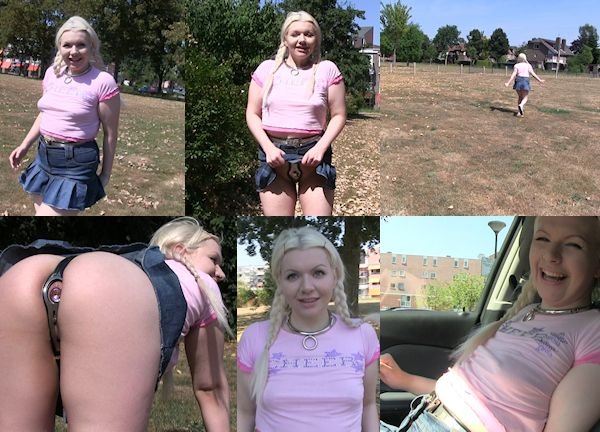 Wow, 22-year old Penny Pocket is such a brave girl. Not many girls would do double plugs on a Casting, much less agree to go outside for a walk in the park! She is a true submissive, and I feel like she would have done anything I told her, she is just so cute! All she wants to do is please and have fun!
Keep in mind the park is not near my studio, so we had to go there by car. Now, as some of you know, sitting in a moving car is one of the most difficult things to do in a belt. Car seats are designed to push you down and back into them which means the belt is pressing right up into your crotch area. You feel every bump and turn. And then add two plugs to that! You can imagine Penny felt those very well during the car rides (back and forth to the park). Especially since I gave her the heavy and longer 5-ball plug for the front shield.
By the time we got to the park, I could see Penny's nipples through her shirt. I knew she was getting aroused. And after we walked a little through the park, I asked her about that. Penny felt really embarrassed to admit the plugs where turning her on with every step. If it hadn't been the hottest day ever in Holland, it would actually be a very nice day in the park. With these temperatures, it was very hard for Penny to get used to the tight belt and the sweaty rubber lining.
She still had fun though, she seemed relaxed and she even got quite naughty, showing proof of her two plugs to the camera many times. They were definitely in there! I had a great time with Penny, she is daring, sweet, and submissive. Probably the most important characteristics for a Chastity Babe! She never asked to be let out and she enjoyed every minute of her Casting. I hope I can get her back to Holland for a longer period of time, so she can do a Chastity Deal. Double plugged of course!