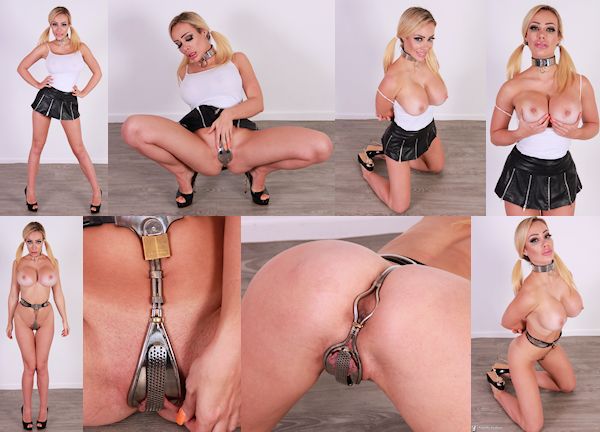 After watching all these adventures with Dirty Mary from Finland, I wanted my own chastity doll! Wouldn't it be fun to take a super star porn model, whose life is only about sex and lock her in a belt!
Well, I got one of the most famous over-the-top porn stars in the world: the very sexy Chessie Kay! She is built for sex! Huge boobs and lips, a tiny body, she looks like a real life sex doll. Chessie is all about sex, she loves sucking and fucking, as she says in the video, and her Castings are usually all about showing her sexual skills. Well, not today, since I locked her in a super tight FancySteel. It is so tight, her labia are poking out of the belt. Chessie is super frustrated, as you can imagine, all she wants to do is put her fingers in her pussy. But it's impossible, and the key is in my back pocket.
I really loved having a belted Chessie doll in my studio. I could make her do anything. She will kneel, fold her arms behind her, play with her huge boobs, anything I tell her to do, because she is so focused on earning her unlocking. This is going to be a lot of fun! Of course, I had some tasks and challenges for Chessie before I would let her out. And these Challenges would go quite far. Will she make it, or will she explode from pure frustration? Stay tuned for more Chessie Kay and her training as the perfect chastity doll!