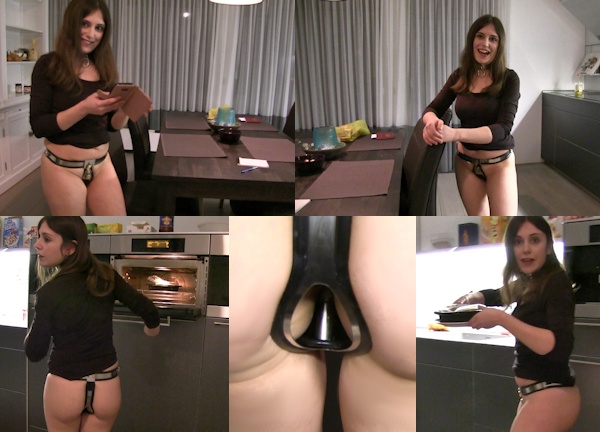 The Amsterdam apartment has been upgraded to a house. We can now host several Chastity Babes at the same time in a spacious and modern building. LittleRedGirl was spending an entire weekend there, in a plugged hip-style My-Steel chastity belt. It was almost too easy for her. She did not seem to have any problems, and she was REALLY enjoying the plugged feeling.
She even was talking about her next Chastity Deal already. If she gets invited back she will do a longer Deal with TWO plugs! I just love her! She is so bubbly and enthusiastic, she really makes it look very easy. Let's hope more girls get inspired by her courage and sense of fun. Just email me for a Chastity Deal. It is very simple: you spend a contracted time in a locked chastity belt, and you get money at the end!
LittleRedGirl was preparing her microwave dinner when I came in with my camera to interview her. We talked about the belt, and how it is different from her own waist-style belt. We also talked about the upcoming BoundCon event, where she will probably be in my promo team again. She only had one night to go in her belt, but there wouldn't be any problems. Even with the (fairly big) plug inside her, LittleRedGirl was moving, walking, and even jumping around the big house. There are a lot of stairs in this place, which not all Chastity Babes will appreciate, but for LittleRedGirl it was all fun and games.
A plugged girl is a happy girl, well… that's certainly true in this case! She couldn't get the smile off her face all weekend! Enjoy this video, it's great to watch a girl who is so comfortable in chastity!