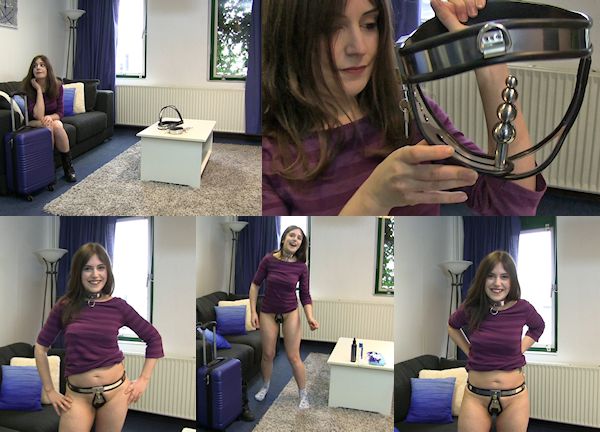 Last November, I was at a small BoundCon edition in Munich where I met LittleRedGirl again. This UK girl has been on my ChastityBabes promo team twice now. The first time she was in a rare TollyBoy belt that she borrowed from a friend. The second year she had already bought her own belt, because she likes chastity belts A LOT!
LittleRedGirl's own belt is a Chinese adjustable rigid style belt, and she has never worn it longer than a few hours. I invited her over to Holland to try a weekend Chastity Deal in a more expensive belt (My-Steel), because she told me she loves a Challenge! Well, I had a nice extra Challenge for her: a big My-Steel vaginal plug for the entire weekend! Plus a locked collar of course. I left her the choice: add the plug to the Deal and get more money, or no plug and get less prize money. She said she just had to go for the full Challenge, she was here now and she couldn't wait to properly challenge herself!
This belt is a hip style belt, which was very interesting for LittleRedGirl, who had never worn this style of belt before. It was a perfect tight fit. There would be no cheating or touching this weekend! The plug is quite big, and her face went a little red when she felt it slip inside. She definitely could feel that plug! Trying to get used to moving and sitting, LittleRedGirl wiggled around the room, delighted and frustrated at the same time. This was going to be a lot of fun! I like having real chastity lovers over for a weekend Deal! Do you think she made it? Stay tuned!