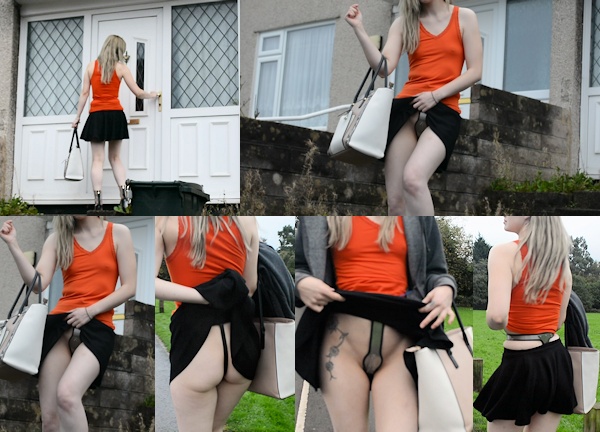 Sam was told by the photographer that they would go for a walk, so she had to change into some clothes (although her shirt was great, it was a bit cold in Wales). She picked an orange shirt, short skirt and see-through boots. Very nice!
After a drive that seemed to last forever (sitting in a car is one of the hardest things to do in a belt), Sam and the photographer arrived at a park, where they would take a walk and Sam had to flash her belt as often as she could. Well, she didn't disappoint! She kept flashing the belt while walking in a steady pace. Sam is great, she is very free and funny, even though it was her first time ever in a chastity belt.
There were a lot of people in the park, but no one seemed to notice Sam's chastity belt. Why do you think that is? Is it because most people don't know what a chastity belt is? Or maybe no one expects a girl to wear a chastity belt? Or maybe they do know, but pretend they don't, because it will give away something about themselves. It's always interesting to go outside with a belted girl. The problem is that it needs to be filmed and the camera sure draws a lot more attention than the belt.
But Sam and the photographer had a good time, and they headed back home for Sam's next challenge. By then, she had completely forgotten about the thigh bands he had shown her earlier. It was time to add some extra difficulty to Sam's 24-hour Chastity Deal!