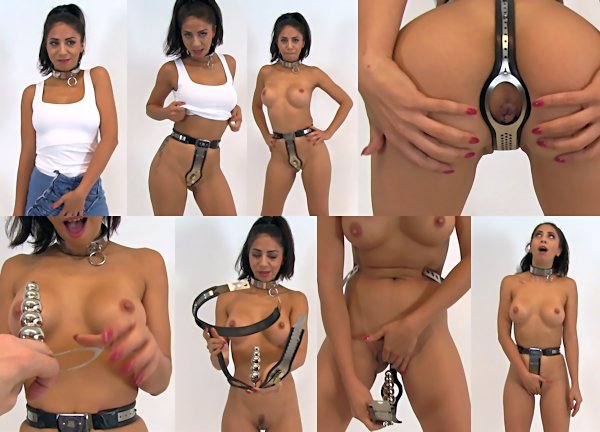 Please welcome Julia from Spain! I love getting Chastity Babes from all countries, I don't think we had a Spanish babe yet (not sure, have to check this later). Julia loves sex and taking selfies. Basically, that's what she does all day (it's true). Such a simple life!
But her life got changed a little when she applied for a Casting here at ChastityBabes.com, because there would be no sex for a while. Of course, she expected that, and she told me she was REALLY excited to get locked up. Now, in this case, that means Julia actually gets horny from being locked in a belt! Which then becomes a problem of course. But still, she wanted to try this, so she couldn't really blame me for her frustration.
Julia is a small girl with a tiny waist, so the belt was adjusted to be really small on her waist. The crotch strap had to be made super tight, because she would definitely try to touch herself, and I didn't want that to happen. The anal hole was lined up perfectly, which could be a problem, because Julia enjoys anal sex and can maybe even climax from it. I would have to think of a solution for that later (I think you can already guess).
She is a sexual animal! You will see in the video she has absolutely no problem with this tight chastity belt. In fact, she did so well, I decided to upgrade her belt, even though it was a Casting. With some girls, you just know they can handle it. I changed the secondary perforated shield for a slotted one, with the big 5-ball plug. Because Julia is quite small, the plug would be pushed really deep inside her. Please not that it is not just the length of the balls that goes inside, with a chastity belt plug, the length of the base also counts and goes inside. This means for a chastity belt plug, the total length is much more important than the number of balls.
Julia was happy with her upgrade! She said she felt very full and the plug moved around when she tried to pick up her phone off the floor. Julia could spend forever in a plugged belt, she is a rare kind of girl. The frustration might eventually kill her, but she would probably get enough pleasure from the anal opening to prevent the buildup of too much frustration. I will definitely have to solve that problem. Any suggestions?