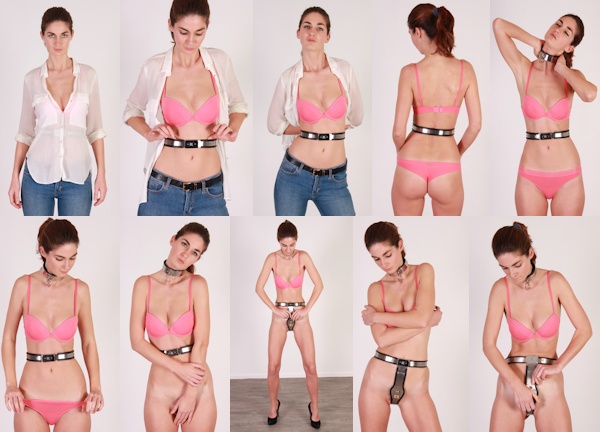 Sometimes we have tiny chastity girls, like Keira, and sometimes we have very tall chastity girls, like this week's Casting girl: Charlotte. If Keira would stand next to Charlotte, Keira's head would not even be at Charlotte's boob level. Charlotte is exactly 200cm tall in her heels, taller than me!
This update is pretty interesting for tall people who want to try out a Chinese adjustable belt, because most people only think about waist size when ordering a belt. In Charlotte's case, I made her wear a tight waist band during the day before the Casting shoot, to get her used to the feeling, and I would attach the crotch part for the Casting. Of course, it turned out that the crotch part of a standard Chinese belt is not long enough for Charlotte to make a waist style belt for her. Very interesting! Charlotte is not only tall, she has a very specific body type with a very high waist.
We had to turn the belt into a hip style belt, but I didn't want it to be very low on her hips, so we ended up with a belt somewhere in between a waist-style and hip-style. Any suggestions to name this style of belt? Maybe we should call it a 'half-hip style'? I'm sure you can come up with better solutions. Anyway, it was effective and really tight in her crotch area, and she could not take it off without the key. So it was all good!
I like the fact that all girls can be belted, and being tall is no excuse either (neither is being an athlete, business woman, tiny girl, or whatever excuse your girlfriend made up). All girls should be in a chastity belt! Even if it is just a starter belt (like a cheap Chinese belt), they can still be quite efficient and a good step up to getting ready for a custom made belt.