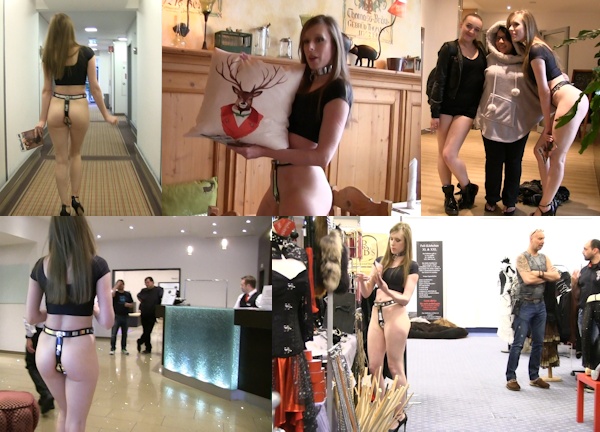 Last weekend, many bondage and fetish enthusiasts gathered again in Munich for BoundCon, Europe's biggest fetish convention. Well, actually BoundCon is in May, this was just a second, smaller BoundCon held in the event's main hotel. It was the first time this small BoundCon was held like this, and we did not really know what to expect.
But small doesn't mean less fun! This November BoundCon had a shopping area, an escape challenge stage, many bondage demonstrations and workshops, and a custom photo shoot area. The entire hotel was booked by convention visitors, which meant we could do anything kinky in the entire hotel, even at the front desk, outside, and in the restaurants. Left and right, models were getting tied up in what are usually public places. People were walking around cuffed, gagged, in rubber, and in crossgender clothing. No one cared, everyone was kinky and loving it!
It is so much fun being at these conventions! I decided not to do a booth or a promo team (it was a bit too small for that), but there were a few famous Chastity Babes there, including Pling from Sweden and Cobie from Australia, as well as my studio assistant (who wears a red My-Steel belt) and we even met WendyWarrior in her full armor.
I asked Cobie to show us around the convention in her trusty NeoSteel belt. This year, the NeoSteel fit her even better than other years, she felt very comfortable during her Deal in Holland, and she couldn't wait to wear it again at BoundCon. Cobie will show you the convention in this video, and she will demonstrate how it is allowed to walk around like this in the entire hotel (including the lobby). She will even show you the secret bondage dungeon that was set up in the hotel's basement. Very exciting, I love public events like this! Be sure to come to BoundCon Munich in May to join us for even more fetish fun!!