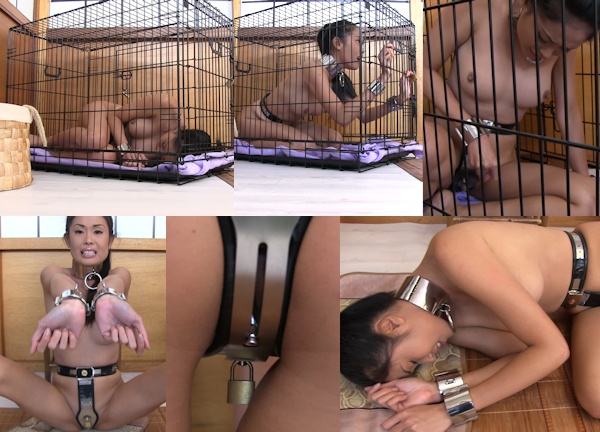 Lots of members have emailed me to ask how Davon was doing. That is so kind of you! After the initial reveal that I offered her a Chastity Deal to stay in Holland, there were some complications, and I even had to let her go for a short while to take care of more paperwork. It was all very risky, and unfortunately she is still scheduled to be returned to the Philippines. She can not work in Holland, or get a place to live, so she returned to the Chastity Deal here in my studio, where she can help (NOT WORK) and earn a place to stay.
That place is currently a cage. I'm sorry, but it seemed most suitable at the short term, I don't want her to go running off onto the streets in just her chastity belt and heavy restraints. So she is sleeping in a locked cage for now. The Chastity Deal is (for the moment), that she will always be locked in a belt (with a rather big 4-ball plug inside of her), super heavy collar, and heavy wrist cuffs. I know this is a little harsh, but I am very interested to see if a tiny girl can get used to such heavy gear. I think she can, she is already sleeping in it (well, if she is not complaining), and when she is moving the chastity belt (to see if she can get it off), she is clearly enjoying the plug's in-and-out motion.
The problem is, she is the world's most dramatic person… she will do her little girl's act to get pity and it is very easy to fall for that. She is not in any pain, but she will cry, sob, and beg to get any time out of the belt or the restraints. It is quite hard to watch and I am getting really fed up with it. I hope she will settle down soon, because I would love it if she would become completely used to wearing this gear every day without complaining. I could use a good studio assistant, cleaner, and host. And I would even give her some clothes to wear. But it seems we are not there yet, not even close…
Please note: Davon Kim is not a slave, she can ask me to remove her gear AT ANY TIME. The Chastity Deal will end and she will have to go back to the Philippines. Please don't message me about what is legal and what is not. Thank you.