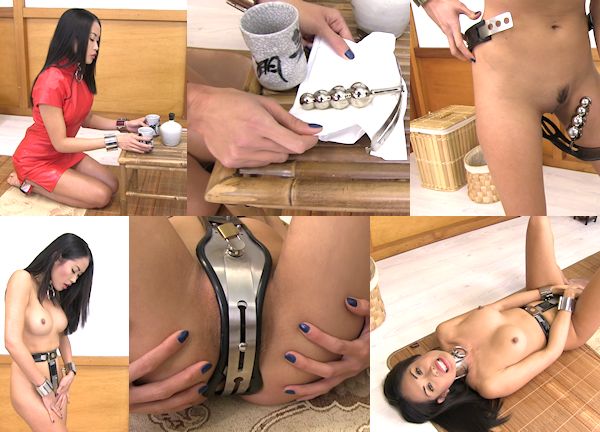 Things were not working out very well with Davon. She was very sad, crying a lot about her situation. She was in a tight chastity belt and very heavy wrist cuffs and collar. But that was not why she was crying, I think. Going from a 5-star receptionist job to being a chastity slave (with no future and no home) in just a few days was just too much for her.
While Davon loves serving people, even for her it was too much to be a 24/7 slave girl. I actually felt really bad for a while, because she was just sulking and sniffing all the time. It was horrible to see her like this. When the sobbing did not stop after about a day, I decided to give her something to distract her mind from thinking about her pending deportation to the Philippines.
It may not have been the best moment to present her with a plug, but she signed the Deal and she will have to allow everything I want to add to her contract. Be it plugs, or vibration, or heavy bondage gear, her contract is open to all these things. It is very hard to find gear that is the right size because Davon is the tiniest girl you have ever seen.
The 4-ball plug did not shock her too much, because she did not realize what it was at first. Even when I let her take off her belt, and reconfigure it with a slotted shield and the plug, she only started protesting at the last moment, when she finally recognized what she would have to do (and where it would go). But Davon knew she would have to do it. She was scared and crying when she put the belt back on, the heavy cold plug sliding into her frail body. It was really big, but she managed somehow.
I'm planning on keeping her plugged for now. It seems to help her demeanor and she isn't crying as much anymore. Well, she is still sobbing away, but is she also moaning with pleasure? You decide for yourself, watch the video! Davon will have to get used to this big plug locked inside of her!