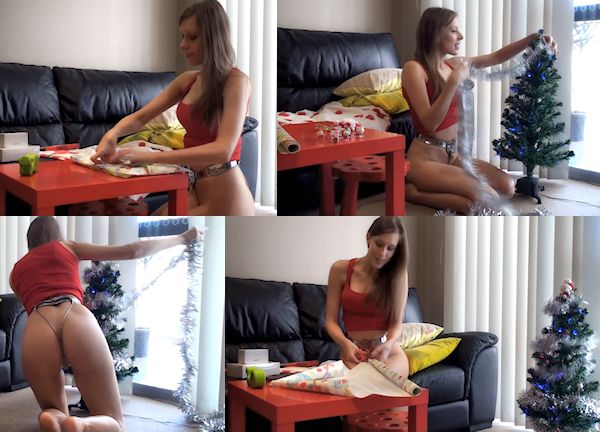 It was a very sad moment when Cobie's deal ended last month, and she had to go back to her home country. She even had to take her chastity belt off, you know, because of airport security and all… After finishing her 13-day Chastity Deal with ease (even if her two belts weren't perfect), she promised me she would belt herself again as soon as she got home in Australia.
Cobie regularly wears her FancySteel belt, because she genuinely loves chastity belts! She does not have a keyholder back in Australia, but I really don't think she needs one. She wants to be belted as often as possible! I am sure you all miss her as much as I do, and Cobie misses her Chastity Deal too! She had such a great year, appearing at European bondage conventions and shooting fetish and bondage content all over the world, but her stay here at ChastityBabes.com was special.
To thank all of you for your support (especially the members) and comments, she recorded a special Christmas video for us! Funny, because it is summer in Australia, and it has been very hot, but as Cobie explains: Christmas in Australia is a little different, but similar at the same time! There's Christmas trees, gift giving, and special dinners. And Cobie shares her decorating and gift wrapping Christmas preparations with us. She even decorates her tree with Hello Kitty and Miffy characters! Very funny :)
It is so good to hear from her! A Merry Christmas from Cobie, and a Merry Christmas from me to all fans, members, and supporters of this website. I could not do this without you! Enjoy your time with family and friends!