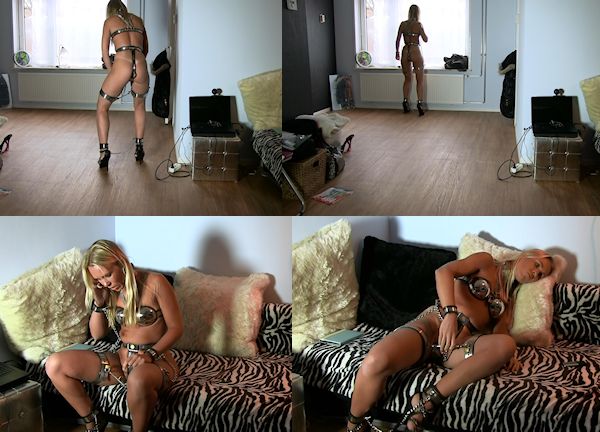 Why do I always leave after locking the girls into so much metal!! I really love to see girls in chastity, but it is better to leave them to see how they move in their natural environment.
In this case, however, it would have been better if I had stayed. Natalie was all cuffed and chained, so it was quite dangerous for her to move about her house. Especially when she went to get a drink in her basement, she almost fell down the stairs! Angry and frustrated, she called me to come over and unlock all of the extra gear that I locked onto her body. She thought her challenge was only going to be 48 hours in a chastity belt! She actually commanded me to come back and let her out. I don't live too far from her, and I immediately came over to check on her. She was doing fine, she had actually put on her high heels again because it felt better on her achilles tendons (with the ankle cuffs), and the chain didn't drag on her new floor as much, AND she needed to go online for her webcam fans soon (always in high heels!). The only real problem was that the member-requested spreader bar wasn't really working very well, it was tilted and twisted one of the thigh bands around her leg instead of forcing her legs open. Oh well, I will have to improve that part of the outfit next time!
I didn't let her out of course, I know her very well, she is pretty tough. We agreed on 24 hours including a webcam session for her regular fans and at least 1 attempt to get some sleep in all of this gear. I was looking forward to both of these events! Natalie was locked in the most extreme full chastity gear yet, and (with her being a good friend for over 9 years) I knew she could do it, even though it would make her a little grumpy!
Dutch dialogue. English subtitles are included in the member download!