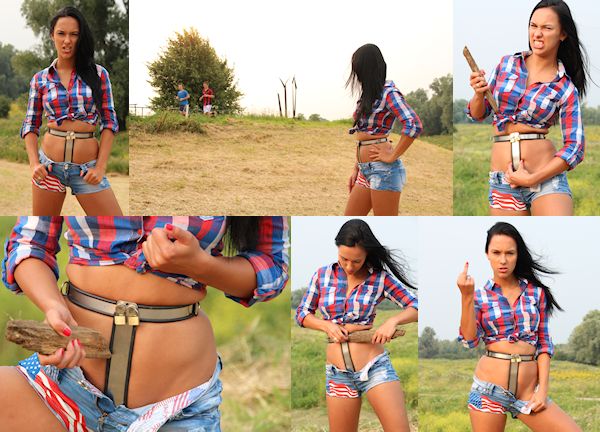 Did we mention Victoria's belt was tight? Well, a chastity belt has to be tight or it would be pointless. To prevent those prying fingers from getting under the belt, the crotch part needs to be snug and tight (best adjusted when the girl is squatting down). But did you know the waist belt needs to be tight as well? If it is not, it will be easy to pull the belt down, which makes the crotch part less tight.
So a properly fitted belt is tight all around, we have had girls reporting it is even better to wear it really tight, because it does not move at all. A belt that is moving around can seriously chafe the inner legs, or worse: pinch the private parts when sitting down / standing up. That will result in injuries which need to heal, and the girl can not be in a belt during that time. So we need to prevent that.
Needless to say, our belt fighting girl Victoria Sweet did not really care about all this. She just thought it was too tight, and after almost a whole day of wearing the chain style chastity belt, she got really fed up with it. Even a walk outside on such a nice day could not please her. We tried taking a few nice pictures of her (as some runners were passing by, looking very interested at the girl in the shiny metal), but Victoria was focussed on the belt. She even grabbed a piece of wood and tried to attack her belt, but she was only hurting herself, so she soon stopped that.
We love Victoria Sweet, she is a funny belt fighter and she looks cute and sexy in a chastity belt. Don't worry about her too much, she is alright and she told us she had fun on this day. She will definitely be back for more MetalBondage.com or a big challenge here on ChastityBabes.com!