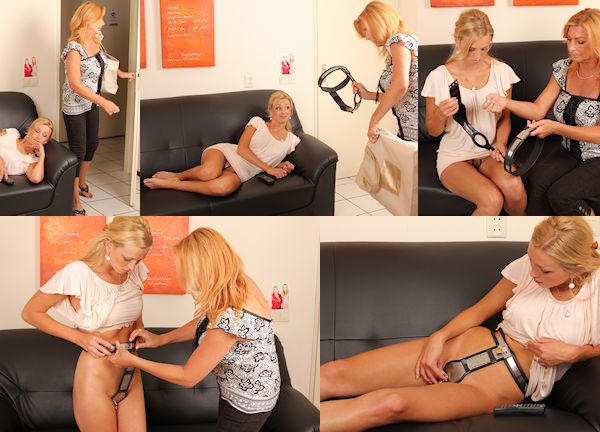 After almost a year, Dominique's contract was soon to expire, when her mom Francis contacted us about our fully adjustable rigid style belts. Her daughter Dominique is belted in the chain style belt, but somehow the rigid style belt seemed much more hygienic to Francis. And that is true, because the ass chains are notoriously hard to clean.
Also, the adjustability of both the waist and crotch area means that Dominique would finally be rid of those pesky padlocks in the back, that were used to shorten the ass chains and pull the crotch part tight.
It seems every time we have new chastity gear on our website, we will receive an email from Francis to test it out on her daughter. We have supplied her with thigh bands, a chastity bra, and even an electro remote to play with (although that was not a big success with Dominique). This mom is more into chastity than her daughter, that is for sure!
This time, Dominique is in for a real shock (even worse than the remote), because not only does Francis want to renew her belt, but also the contract!! Dominique has been complaining about the chain style belt, probably because the contract states that she will be released immediately if there is any severe discomfort. So Francis will use this new rigid style belt to counter that excuse and keep her daughter locked up for another year. The only problem is… Dominique will have to sign again, something she will probably never do!
Well, let's first change the belt on Dominique, we can always see what happens next!