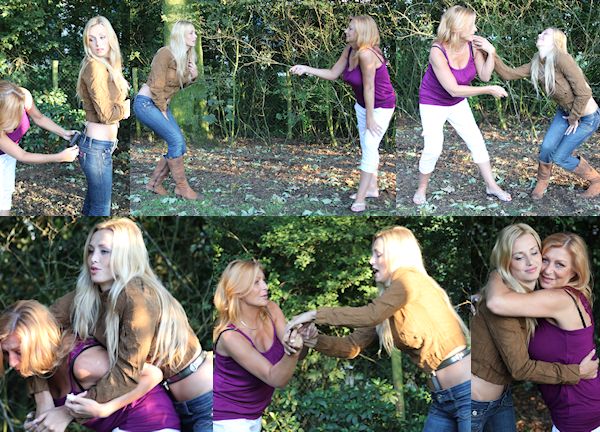 On September 22nd, Dominique's chastity contract will finally come to an end. She has come to terms with her mom's wishes and they seem to have become even closer friends over the past year. There is some kind of understanding between those two, a bond that is stronger than before!
Still, Dominique's mother Francis has got a wild imagination, she loves to experiment. Francis is one of the most avid followers of this website, looking at every update with great interest. When we featured thigh bands, she wrote us if she could try them on Dominique. When she saw a chastity bra, she immediately wanted her daughter to try one on.
And now… Francis has spotted our black box with remote control. She definitely needed to try this!! Don't worry, there is no plug attached to it, just 4 sticky pads, stuck to her skin (2 under her crotch shield above her clit and 2 on the insides of her legs as high as possible). Strangely enough, Dominique was easily convinced by her mother to try this. Maybe she is a little masochistic?
Anyway, once Francis delivers the first shock to Dominique, the blonde daughter realises she does not really want her mom to have the remote. She attacks Francis in a wild catfight for the possession of the remote, but Francis simply presses the button again! Dominique is not shocked too hard, but her legs get very unstable every time her mother presses the button. There is no way for her to get the remote, even though she is much stronger than Francis.
But Dominique is smart, she simply unplugs the cord from the black box on her back. And so the arguing and fighting continues, with Francis tell Dominique to reattach the wire. Great chemistry between mother and daughter, but we don't think Dominique ever wants to try this black box again! Ever!
And Francis? Well… now we have seen her sadistic side… we are not so sure what will happen next month!
Czech dialogue. English subtitles are included in the member download!