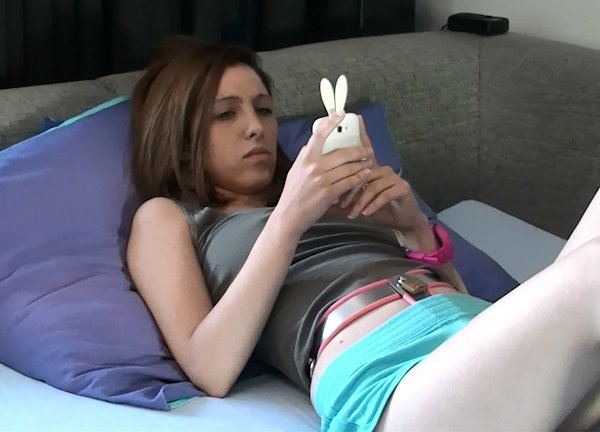 THIS UPDATE WAS SHOT ON DONNA DAY 23 (MAY 25th)
On May 25th, we were very surprised to find a different Donna in our Amsterdam apartment! In our absence, Donna had gone out into the city and she had her hair coloured to brown! It took some getting used to, seeing her like this, but she was quite happy with it, and after a while we began to think it suits her well!
Later, we realised that she must have been in the salon for hours (apparently colouring hair takes very long), her chastity belt hidden under her clothes! Nice! Unfortunately, our contract did not oblige Donna to take us with her on such occassions or even let us know about this. We all live and learn, we hope the next chastity deal will be a lot better in terms of conditions…
We just had to shoot some pictures and video of the new Donna, who is ignoring us most of the time, just playing with her bunny eared phone. Sneaky girl, getting her hair changed like this, but it is probably a good indication that she was feeling really comfortable in Amsterdam!
Remember the Donna updates are not shot in a studio so picture quality may vary. Member pictures and videos are not censored in any way.