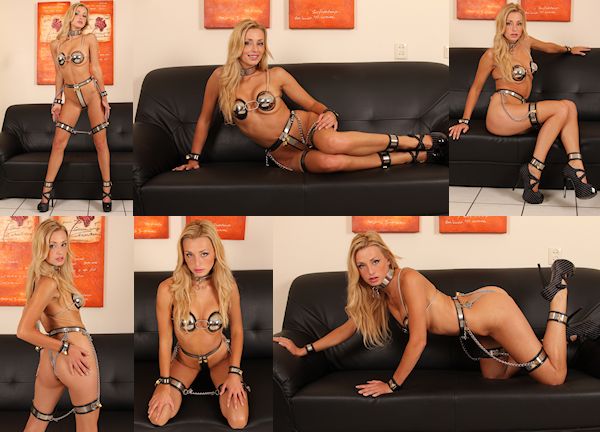 A popular member request was to see Dominique in more chastity gear. To add some more metal to the belt she is already wearing. Well, it never hurts to ask, so we called Dominique and proposed a little 'full chastity' photo shoot. She agreed, as long as it was only for one afternoon.
Our car loaded with metal, we drove to the little house on the country side where Francis and Dominique live, and we did a super photo shoot of the gorgeous Dominique in this complete chastity outfit. Collar, ankle, and wrist cuffs, plus thigh bands and a chastity bra. We brought the old style bra because we thought it goes better with Dominique's chain style belt, but it was a little too small for Dominique's boobs! Oh well, maybe next time…
We did a great shoot for you to enjoy, and after a few hours we unlocked all our gear (with some regret) and took it off. Except the belt of course, we don't have the keys to the belt, and Francis was not even at home. But not to worry, she will (probably) be out of the belt in a few weeks!