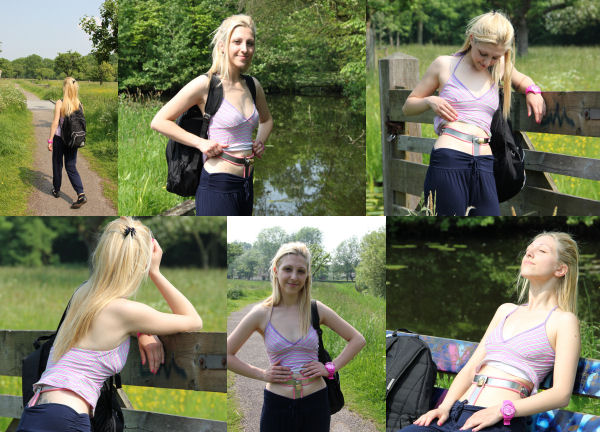 THIS UPDATE WAS SHOT ON DONNA DAY 21 (MAY 23rd)
On this hot day in May, Donna went out for a hike in the Dutch nature, and we tagged along with a camera. Donna was very relaxed and happy, and she has been such a trouper about being locked in her chastity belt! Knowing that she still had about 9 days to go did not affect her mood at all!
Of course, with her shirt down, there was not much to see for chastity belt lovers, so we asked her a few times to show the belt to the camera. And in these moments she almost seems proud? Just look at the pictures to see what we mean!
Donna was still shy, however, whenever people were near she quickly pulled down her shirt again. She was belted in Holland for 30 days, out and about in the city, parks, shops, and restaurants, but probably not a single Dutch person ever noticed she was locked in her pink chastity belt! It goes to show that a belt can be worn discretely. Think about it next time you go outside: any girl you are passing could be locked in a belt!
Remember the Donna updates are not shot in a studio so picture quality may vary. Member pictures and videos are not censored in any way.