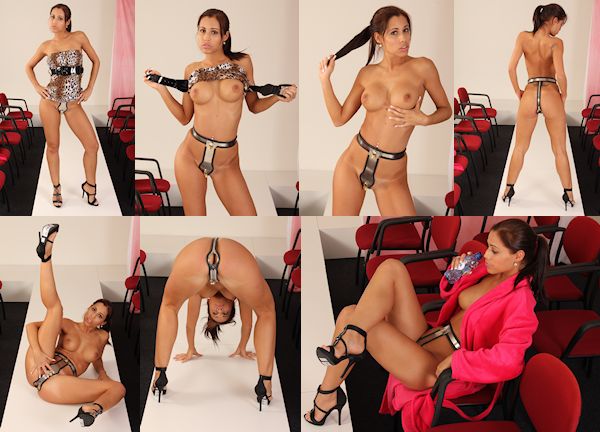 Satin Bloom is definitely one of our babes we'd like to lure into a longer term chastity deal. Not just because she looks incredibly hot, she also IS incredibly hot. And by that we mean that she is a highly erotic person (as she likes to call it), she loves touching herself and can not imagine living a day without stimulation or sex. To us, that sounds like the perfect girl to teach a few lessons!
This time we make Satin walk our catwalk, and of course she can not do this like the usual catwalk models, she is just too easily distracted (turned on) by posing nude. Only this time she is not nude, she is locked in a rigid style belt, the one we have trained her in for her past few appearances, adjusted tightly to her exact size. Satin tries to walk the catwalk like a professional model, but she soon ends up on the floor, showing off her perfect body and all sides of the chastity belt you would love to see. Satin loves giving people a good look!
This afternoon she was belted for about 4 hours, her personal record. As usual, we did not unlock her after shooting, but we gave her a robe and some water to have a rest. Which means we could take a few more backstage bonus pictures and video of Satin Bloom relaxing in the belt, already getting used to it. This is promising! She might come back to sign a deal! But for how many days?