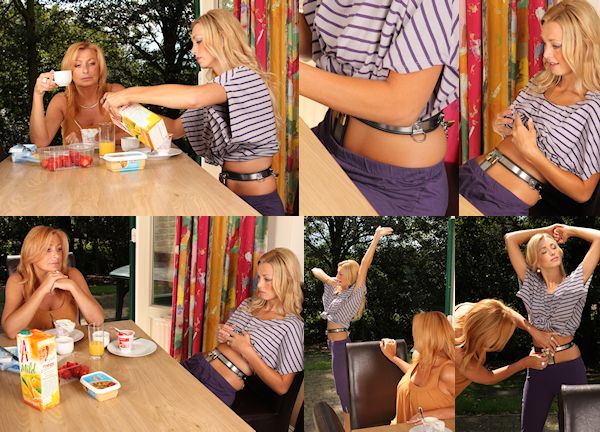 Meanwhile, poor Dominique is still serving her 1 year contract. Living with her mom Francis does not make it any easier, because mom checks the chastity belt every morning at breakfast. Francis is obsessed with details, and she always checks the padlocks and lining of the entire belt.
Francis loves her daughter so much, that she wants to protect her as much as she can. Dominique has grown up to become a beautiful girl, maybe even too beautiful. Looking like this, she will get way too much attention from guys, and Francis just thinks Dominique is not ready for that, not as long as she is living under the same roof. The chastity belt was a harsh measure but Francis lovingly checks up on her daughter every day, making sure that the belt does not hurt or irritate Dominique's skin.
With all these checks, Dominique can not even try to sabotage her belt during the night, because mom will immediately see that in the morning. So this time at breakfast, Dominique just ask her mother in a straightforward way if she will please let her out. Surely she has been belted long enough? Of course, Francis is too strict to give in, and she will definitely stick to the contract.
Great update for people who understand Czech, who could maybe provide an approximate transscript of the dialogue here in the comments for the other members. Although you don't have to understand anything to see what is going on here!