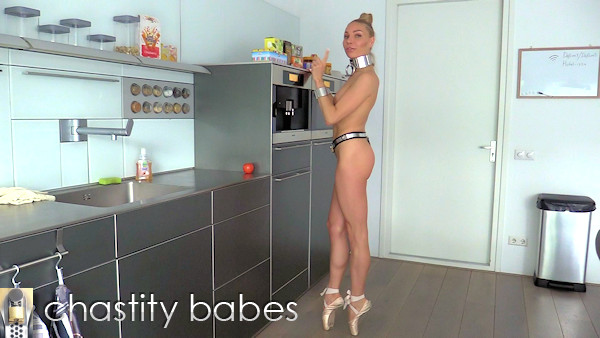 With about five or six hours to go, Ella was starting to feel the weight of all this metal on her body. Especially the extreme collar was getting very annoying, it was very tall and heavy. But she was really determined to make it. She kept smiling and always was happy to answer my questions, when I was walking around with my camera.
She was taking a break, reading a book, when I asked her to get up again and walk around. Because I just love seeing her walk on tip toes. It is an amazing skill and I was going to enjoy it to the fullest while she was under contract. Okay, walking on tip toes was not actually in the contract, I only came up with that after she signed, but she agreed to do it anyway, which is amazing!
Ella went to the kitchen to make tea, and it is just wonderful to see this tall ballerina locked in full steel in my kitchen, elegantly making tea, standing on her toes! She is such a bubbly person (which is very impressive considering where she is from and the situation at her home town at the moment), and I wish I could keep her for a lot longer. I am sure she will be back very soon, because she can't really go home, so maybe I can offer her another Deal to help her out a bit!