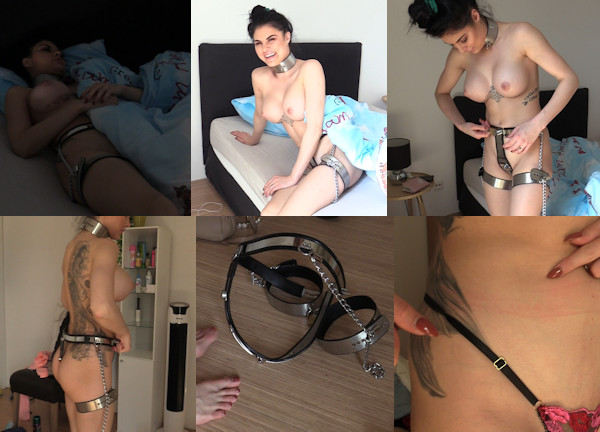 Rosie even slept in on her last day! So she was belted a little over 48 hours. She couldn't wait to get out of the chastity belt and thigh bands. But she was looking forward the most to taking off the tall collar, so she could move her neck again!
Rosie did really well, I enjoyed having her around the house. She is very funny and competitive. She kept saying she beat me (in the Chastity Deal), so I guess she considers it a win for her. She made it and she got the cash prize, that is true. But I think it is more of a win for me and the members of this website to have enjoyed her antics in steel for the past updates. If Chastity Babes want to win this sort of Deal, I will happily lose every time!
Rosie had a few red marks on her hips, between her butt, and on her neck, but it wasn't too serious. She was already running downstairs to make more of her famous grilled cheese sandwiches, but this time without any steel or handcuffs hindering her. Bye Rosie, till next time! You did great!