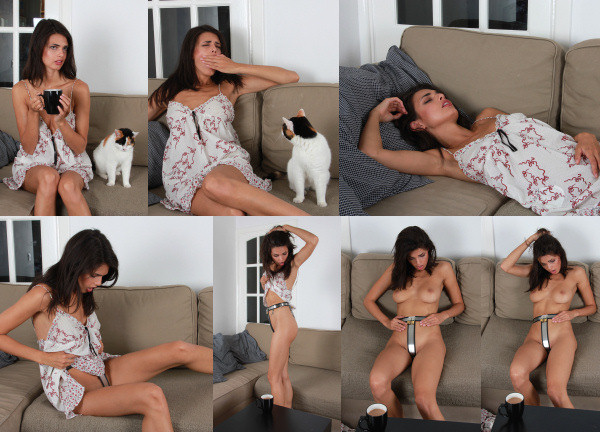 A quiet morning, birds singing, and beautiful Yasmine is enjoying her tea on the couch. She is playing with her cat and thinking about taking a shower. Suddenly, Yasmine starts to feel very drowsy. She lies down and falls asleep for over an hour, with her cat trying to wake her.
When Yasmine finally does awake, she finds a very worried cat sitting by her side. Slowly she sits up, only to realise there is something pressing down on her waist and hips. When she lifts her night gown, Yasmine is horrified to find a metal chastity belt locked onto her!! A panic sets in, she tries tugging the padlocks on the front, pushing the belt down over her hips, pulling the chains on the back, but nothing seems to work. This metal device is locked onto her and quickly realises she will need keys.
Still panicking, Yasmine wonders how she could have fallen asleep and who could have done this to her. Would her jealous ex-boyfriend be capable of doing this to her? What will she do? She needs to get showered and dressed and ready for work! Surely she can't wear this thing to work!