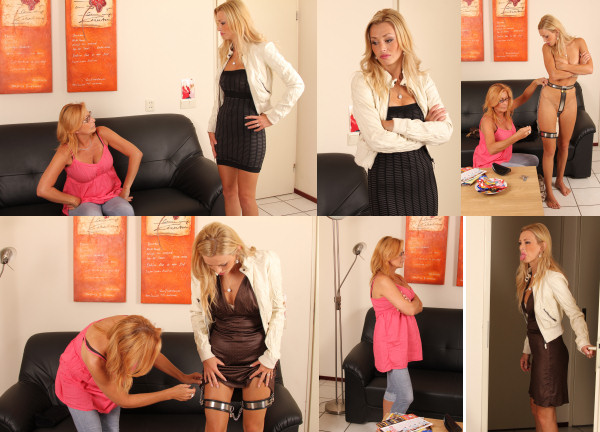 With a quick "mom, I'm going out, bye", Dominique was hoping to escape her mother's protective attitude and enjoy herself for a while this evening. But Francis stops her daughter with a firm word and inspects her clothing. The dress is way too short for a chaste girl, Francis thinks. Even wearing a chastity belt 24/7, showing this much leg will definitely attract unwanted attention from the boys.
Watch the heated discussion and Dominique's unfaked disgust as her mother tells her she will add thigh bands for the evening. This means Dominique has to put on a longer dress, or the bands will show and that will raise all kinds of questions. Francis wastes no time in ordering her daughter to take off the short dress and locking the thigh bands onto her.
Interestingly, it is only the high heels that tilt Dominique's legs enough to completely hide the connector chain when she is standing up. She will have to remain standing for the evening, making sure her dress is pulled all the way down. Dancing will be an interesting experience to say the least.
Furious at her mother, who will just not let her alone for the contract year, Dominique leaves the house to go out, sticking out her tongue at Francis, who resumes her reading like nothing happened. Francis knows her daughter is completely safe this evening, and will probably even be home early…
Czech dialogue. English subtitles are included in the member download!