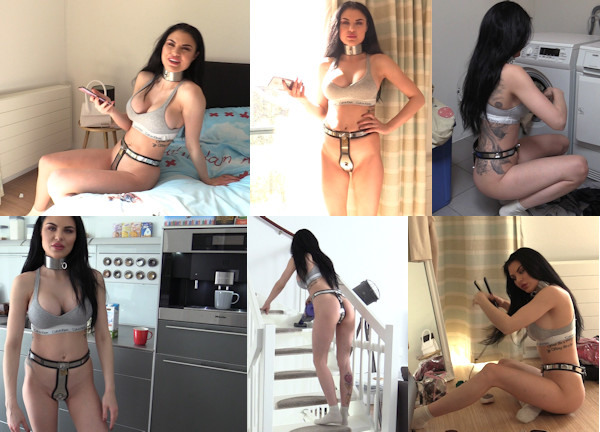 Remember the very funny Rosie Mot? This famous model ended up in my studio for a Casting one day last year, and I told her about my Chastity Deals. I never expected Rosie to take a Deal, she is far too busy to spend that much time at the Chastity Mansion… but guess what? She did!
It worked out perfectly, she needed a place to stay for 2 days before starting her European shooting tour and I offered her free accomodation, food, AND a cash prize if she would stay in the Chastity Mansion for 48 hours, locked in a chastity belt and collar. Needless to say, these 2 days were amazing!
Imagine having a famous torpedo tit playmate in your house, locked in a NeoSteel belt. You have the keys in your back pocket. Rosie can only take very short toilet breaks if she asks very nicely, and she will be locked up for the rest of the time. Sleeping, showering, everything in the belt. Rosie may not look like it, but she is actually super tough and competitive. There was no way she was going to lose, she said, taking this Deal very seriously, it was a bet she wanted to win (more so than the prize money).
On top of that, Rosie is one of the funniest girls ever. She gives a non-stop stream of commentary about every second she is in the belt. There is no guessing how she feels, Rosie will tell you straight to your face if something pinches, if she is happy, sad, or frustrated. Her comments are hilarious! She is very active, she will not just lie down for 48 hours. She needs to do her laundry for her travelling, she made me coffee, and she even vacuums the entire house because she feels guilty about shedding hair everywhere.
Rosie's body is amazing. Huge boob rockets, incredibly toned legs, and a perfect butt. Having her around in a NeoSteel was definitely a great time! And I threw in some Challenges along the way, so stay tuned for the other parts of this amazing Chastity Deal!