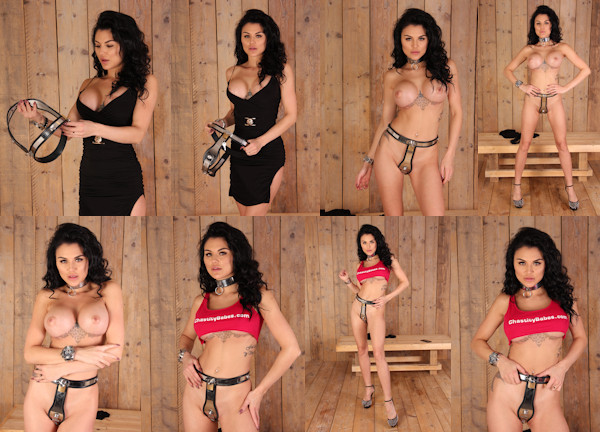 One of the most stunning models I have seen in a while, Rosie Mot was visiting Holland on a shooting tour. I contacted her to shoot in a chastity belt, expecting she would say no, but she messaged me a short time later saying she would 'pop over'.
It turns out Rosie is a very dominant character. She is so confident, she would make a great dominatrix. When she walked in and saw the belt waiting for her, she had to laugh. I thought she would turn around and leave, but Rosie picked up the belt and commented on how bulky and heavy it looked. It seemed she was going to do it! When she asked me how many hours, I blurted out 'about four', thinking about the standard Casting time. I wanted to add 'but you don't have to…' but Rosie just said 'ok!'.
That was crazy, I was going to have this babe in a belt and collar for four hours! She looked so good in the belt! Rosie does not stop talking for one second, so I got a lot of feedback from her, about how she was feeling, what she was thinking, etc. Don't miss this video, it is great fun to hear her comments!
I caught her a few times when she didn't know I was recording. We talked a lot in these four hours, and I even told her about a weekend Chastity Deal. She might be interested to do that! Also, I couldn't resist handing her a promo shirt, which was of course a bit tiny for her huge boobs, but I needed to get some promo pictures of Rosie in the famous pink top!
It turned out Rosie was a lot less scary than I imagined. She is great fun and she loves to challenge herself. I will be quite lucky if I manage to get her in the belt for a weekend Chastity Deal. Imagine having her running around in your house all weekend wearing nothing but steel, and the keys are in your back pocket! I am looking forward to that!