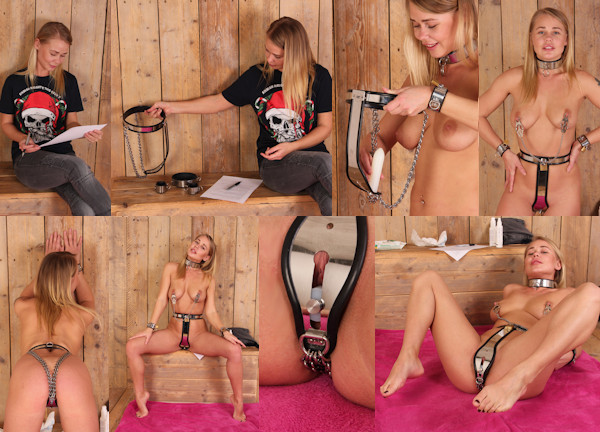 It is Locktober! So I wanted to do something special and start a Chastity Deal that's never been done before. Today, I challenged the always cheerful Darina Nikitina to stay at the Chastity Mansion, locked in a belt, collar, and wrist cuffs. So far, that is pretty standard.
But Darina is special. She is one of the toughest models I know, so she needs a bigger challenge. I added a big vaginal plug to her belt, right from the first day. And the most unusual part: she would have to wear clover clamps for the entire Chastity Deal. Sleep, eat, shower, exercise (which she loves), all in nipple clamps. Yes, that really hurts her nipples. And yes, that is crazier than anything anyone has ever attempted. But if there's one girl who can do it, it is Darina!
Plugged and clamped Chastity Deal? Bring it on, she said! And in case you are wondering if nipple clamps really are that painful, order a pair of clovers (they are not expensive), even if you are not submissive. Just try them to experience what Darina will feel 24/7. This is probably the craziest Chastity Deal so far. And Darina might now last the entire Locktober month of course. But that's ok, I have a few other candidates for Locktober, it will be a very special month here on ChastityBabes.com, definitely worth taking a little 30-day subscription right now, to support the girls in their challenges!