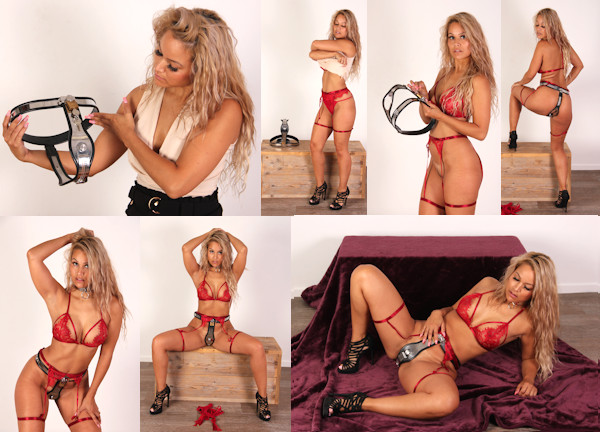 Local girl Sasha wanted to try a Casting in a chastity belt, because it was something she had never done before. She brought her boyfriend along, who wasn't so sure about this fetish shoot. Sasha really had a lot of fun trying the NeoSteel belt! She loved the fact she couldn't touch herself (she admitted she touches herself very often in a day).
Sasha is actually super stunning with a super fit body, big submissive eyes, and a very cute face. Holland seems to be a good source for Chastity Babes at the moment! I also liked Sasha's taste in lingerie, which goes with the belt perfectly. A locking collar and a pair of heels completed her Casting outfit for the day.
A Casting is always 4 hours, to really let the girl get used to the belt. Sasha did not have any problems with that, she could move easily in this belt. She got a little frustrated, not being able to touch her private parts, but she could still touch her boobs which she apparently also loves to do!
Sasha's boyfriend looked at all this with increased interest. He suddenly realized that he could hold the keys and make her do ANYTHING. And he was right: Sasha is pretty horny usually, so she would definitely trade a blowjob for a few minutes out of the belt! After they left, he contacted me to arrange a longer Deal for Sasha in a belt, so he could play with her a little. I suggested the 'token-blowjob-system' (1 blowjob is 1 token, Sasha can collect 25 tokens to get some time out of the belt). He was very excited about this!! And I can't wait to film Sasha in this new Deal!! She looks like a skilled and determined submissive!