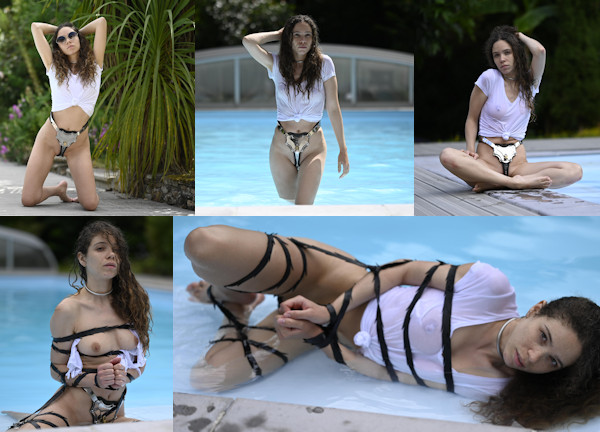 Lizanne is a collared and belted submissive from Belgium. Now and then, her Master is sending me some video or picture of her, because I absolutely love Lizanne! She is a true submissive, bondage enthusiast, and she has been a big chastity belt fan ever since I introduced her to Carrara!
Lizanne is one of the models on this website who actually has her own belt. She doesn't wear it permanently, but she gets locked very often and she obviously will always do as her Master wishes. Even when she wanted to do a beautiful arty pool bondage photo shoot, she was locked in her belt and collar.
It is amazing to see behind the scenes, watching this stunning picture set being created. We see Lizanne parading around in her belt and a white shirt, taking a swim before the shoot. Her perfect boobs can be seen through the wet t-shirt. She lounges around, completely used to her belt, and waits until the photographer is ready.
Then she gets tied up, in a rather arty way, and she poses like a true professional model! Lizanne doesn't even care when the photographer rips her t-shirt, revealing her boobs. She is focused on creating beautiful art, and her dedication is mesmerizing to watch! Fun times in the summer! Outdoors footage is always so much nicer!

High quality 4K video! (let me know if you have trouble playing the file)