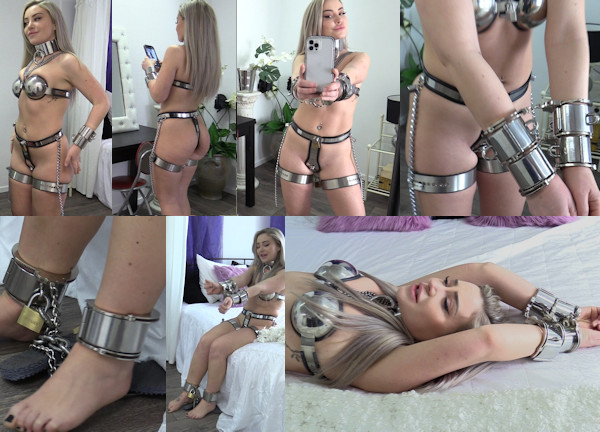 Maybe you have seen a few snaps already of this incredible afternoon when I put beautiful Aubrey in seriously heavy metal bondage. Because she liked it so much, she kept taking selfies and she actually posted them on her social media :)
I don't blame her, she looks amazing in heavy steel! This girl should actually be in heavy steel 24/7! She always tells me she could stay like this for a long time, maybe it is time to challenge her for real some day, I think it is not so easy! Even an afternoon was already quite hard, as Aubrey found out. She was in full chastity, with a NeoSteel belt, tight chastity bra, and thigh bands. I locked her thigh bands together with a big padlock and she said she loved the feeling of being restricted!
Aubrey was also locked in a very heavy metal collar, and I wanted to do something nice on her wrists, so I made a very creative pattern using 3 pairs of handcuffs and 2 pairs of heavy steel manacles. Then I wanted to leave her for the remainder of the 4 hours (with a running camera), just to see how she would deal with the weight of these restraints. But I almost forgot something. I quickly returned and locked her ankles in 2 pairs of ankle cuffs and a pair of super heavy manacles connected by a heavy chain. Now she wouldn't be able to walk (probably), but she was already on the bed, and she had her phone, so she seemed to be ok.
Aubrey in many kilos of steel!! If that sounds good to you, don't miss this video, it really was a lot of metal!! Hats off to Aubrey, she is a trooper!