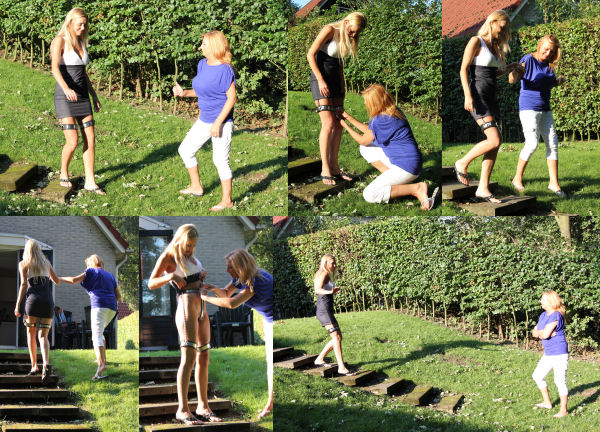 At the end of last summer, when we gave Dominique her own belt as part of the contract deal with her mom, Francis was also intested in thigh bands. Even though Dominique did not eventually sign for wearing them (just the belt), they decided to try them on to see what it would be like.
In this update, you can see how Dominique and her mom Francis practise how to walk on stairs in thigh bands. Because of the restricted stride, you really have to be very careful on stairs. If you are not used to the thigh bands, your toe will hit the stair and you will trip in a horrible way, because your upper legs are chained together.
Francis first lets her daughter walk up and down the stairs in their back yard a few times, without the little chain between the bands. Then she proceeds to lock her daughters upper legs together (which pleased her very much for some reason) and together they practise walking up and down a few more times.
We think Dominique did pretty well, but she still would not sign for the thigh bands last summer. She claimed the chastity belt was enough to start with and the dresses she always wears would show the thigh bands too much. Oh well… maybe sometime this year…?