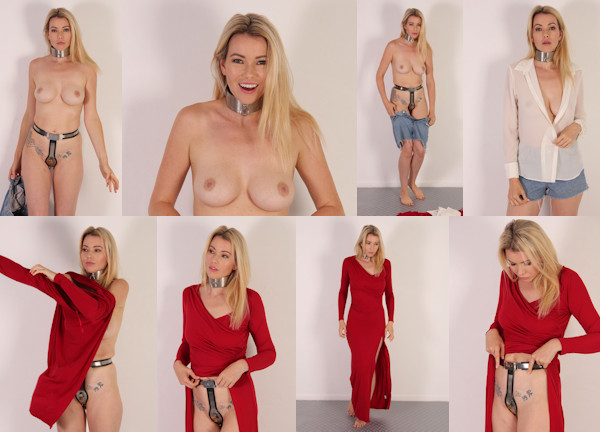 Remember gorgeous Nicky who did a Casting in 2017? She recently visited the studio again! As a friend of our regular Chastity Babe Yasmine, Nicky was always a little bit interested in modelling for us, but never too sure.
I tried to talk to Nicky about a Chastity Deal, but she was very worried about going outside in a belt. After locking her into a Y-chain belt, I challenged her to find clothes that would reveal the belt, because I am pretty sure everything will cover a chastity belt, no matter what you are wearing. And even then, no one is really going to notice.
Nicky first tried jeans shorts and a top. To her suprise, the shorts covered the belt completely, even though it was a waist style belt. She was complaining a bit that she couldn't bend over to put on the shorts, but that's just because she isn't used to wearing a belt yet. Nicky also couldn't put on any shoes because of this. She will have to learn how to sit and bend over!
Then she tried a beautiful red dress that she brought to the studio. The belt was visible through the fabric, but it wasn't bad! Only if you look very closely you could see the belt, if you know what to look for. Nicky still couldn't put on any heels, but she was now convinced a Chastity Deal would eventually be possible. Maybe in the summer? Who knows!
Oddly enough, she did not comment on the huge collar I locked onto her neck. Maybe she thought that wouldn't be part of the Chastity Deal… we all know it will be!! And that's a lot harder to hide in the summer!!