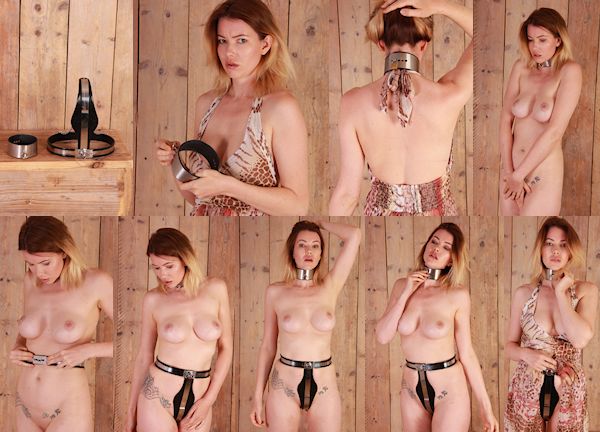 Another girl from the UK who wanted to do a Casting to see if you like her for future chastity adventures (please comment, otherwise I can't find out which Casting girls you like!!). Nicky was very shy, so she did not want to speak on camera, but she is very cute and she has an amazing body!
She is tall, and the new Access Denied chastity belt fit her very well (snug and tight). I laid out a much bigger collar than usual, to see her reaction, and Nicky was very unsure about these metal things she was going to lock herself into. Because this was a self belting Casting. I love seeing girls lock themselves up, giving me the keys, although it is often very hard for them to figure out how this stuff works. After all, they have never done this before (or even seen this gear before).
Nicky was a quick learner, she needed a bit of help with the locking of her collar, but she managed to get herself into the Access Denied all by herself. Getting the key out is tricky, but of course I was glad to take the key away from her. She looks absolutely stunning in her flowing dress with and the big collar! Such a great body to be belted, she should have come to do a Casting sooner!
Today, Nicky is joining the elite ranks of Chastity Babes. She will be at the bottom if she only does this Casting, so I hope you like her. Because next time she is in Holland I may invite her over to the apartment for a weekend… or more!